What we offer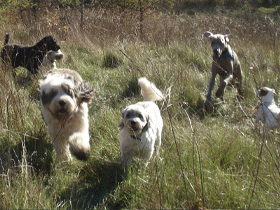 A Fit Dogs outing is no walk in the park. Nope, it's a head-down, ears flying, flat-out run along rolling trails, through meadows, across fallen trees, and up and down, and back up, some serious hills.
As much as possible, Fit Dogs operates in natural settings, not well-groomed parks. We do this because of the variety of terrain (to build strength and flexibility), the stimulation that natural sights, sounds and smells offer the dogs, and of course the distance we can get from roads and distractions. We're on the move at all times.
It means some travel in our car or van. We pick up and return Fit Dogs clients to their homes.
We go regardless of weather. However, road conditions or extreme weather may force us to shorten outings or divert country jaunts to the city.
Please note that we do not offer on-site daycare.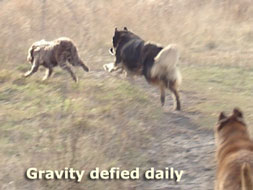 2-hour offleash hikes in a private forest