Boarding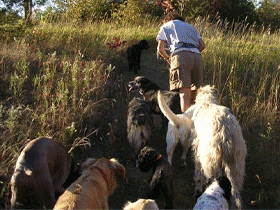 Fit Dogs offers a limited amount of in-home, cage-free boarding at both our Toronto home and 55-acre Northumberland County farm. Priority is given to our walk clients.
Boarding clients are integrated with our own doggies and other boarders, and treated as our own – very well, we think! You won't be surprised to read that the emphasis is on exercise – especially effective for nervous newcomers to forget about their fears and get on with the play.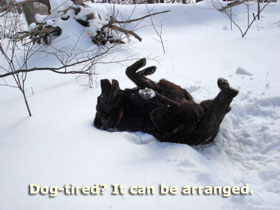 BOARDING FEES*
Fit Dogs regular walking clients: $45/night + HST
Others: $50/night +HST
*All prices effective Sept. 1, 2016
You will be asked to drop off and pick up your dog at the Fit Dogs shop (walking clients excepted).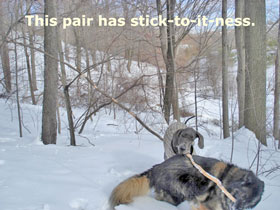 Getting started
Would your dog be happy with us? In addition to the qualities described earlier in who makes a good Fit Doggie, we ask that all boarding clients be:
able to settle indoors without excessive/persistent barking
housetrained
civilized with indoor cats – no bodily harm or obsessive attention
All non-Fit Dogs clients must be assessed well in advance of any boarding date. This will mean a meeting at the Fit Dogs store with you and your dog, as well as subsequent trail outings.
For more information, please call us at 416-929-9287.
And if you're looking for a getaway with your dog, check out our farm vacation rental.