Dive in for fitness, rehab & fun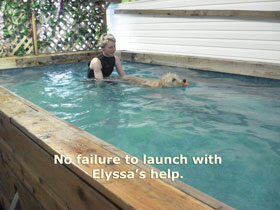 Most dogs simply love to swim, but finding safe, clean, dog-friendly, year-round bodies of water in and around Toronto isn't so simple.
Ta-dah! Let the Fit Dogs pool at Broadview & Dundas be your dog's happy oasis in the asphalt desert!
Whether you want your dog to burn energy, learn to swim, recuperate from injury or surgery, lose weight, or just share memorable one-on-one time in a new way, we're here to help make it happen.
At our indoor pond, your dog can do laps, fetch, have hands-on support, or be tethered to the poolside to tread water – whatever suits your goals and your dog's abilities and preferences.
The aboveground pool is 8 x 20 ft. around, with a water depth of 3 ½ ft. It's heated to approx. 87º F to promote circulation and relax muscles.
A gentle, chemical-free, salt chlorine generator keeps water clean and silky. Wide, rubber-topped ramps allow for safe and gradual entry and exit. K9 life jackets are available for use at no extra charge.
All swims are by phone appointment, and all sessions are private just you and your pooch(es).
You can go in the water if you wish – it's clean, we promise! – and change rooms are available
Afterward, use the poolside shower and blow dryer to rinse and dry your dog.
Every dog taking their first swim with us must have an orientation. Details under first-time swimmers below.
Wardrobe tip: leave the Palm Springs beachware at home! The Fit Dogs pond is humble but clean, created with dogs' needs and comfort – and affordability for their humans! – in mind.