Testimonials
Finn
Mid-June 2007, my five-year-old lab tore the crucia ligament in his right hind leg chasing a squirrel. For a minimum of 8 weeks, he was forbidden to go for any walks or to run off-leash. After investigating options to knee surgery (which had insufficient success odds for me to seriously consider that treatment), my vet suggested I find a place for Finn to swim to stay in shape.
Finn began with three sessions/week at Fit Dogs and not only loved being in the water, but also got the exercise he needed to stay sane. He lost weight and built muscle around both knees, so much so that after 8 weeks of swimming he wasn't limping at all.
From weeks 8-12 post injury, Finn swam twice/week for 30 minute sessions and now that he has healed, he's coming once/week for the fun of it.
– Janet Somerville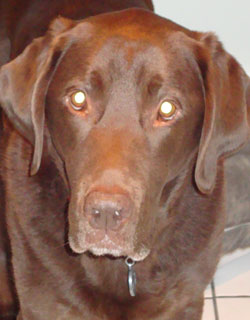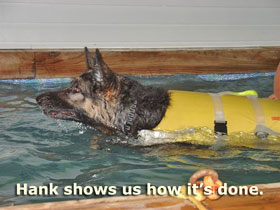 Hank
We adopted Hank from German Shepherd rescue 8 years ago. We believe he is 11 or 12 years old now. He has bi-lateral hip dysplasia with arthritis and Degenerative Myelopathy (DM), a neurological disease of the spine similar to Multiple Sclerosis in humans. As his disease progressed Hank could no longer manage his walks and his muscles began to atrophy.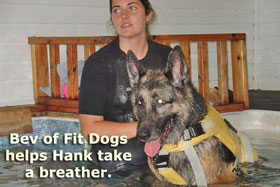 We decided to try Fit Dogs to help him get the exercise he desperately needed to stay mobile for as long as possible. Hank showed improvement after his very first swim and after a few more sessions he could tolerate short walks and actually ran with a normal stride; something I haven't seen him do for a couple of years. Although a little apprehensive at first, Hank now loves his swims with Rob. He even likes the shower and the blow dryer (in fact, I think he likes the blow dryer best of all).
Sadly, there is no cure for DM, and eventually Hank will be unable to walk but thanks to kind & knowledgeable staff at Fit Dogs, the quality of our boy's life has improved beyond our wildest expectations. Thank you Fit Dogs!!!
- Nancy & Rob Clements (…and Hank, of course!!)
(Fit Dogs postscript: Hank passed away in early winter, 2008. We thank him and his wonderful family for giving us the privilege of knowing this brave and endearing fellow.)
Samantha
(Imagine a border collie who's never exercised. Sam is a border collie cross who was confined to an apartment in a high-rise her entire life. Her small frame grew to tip the scales at 90 lbs., and her legs seriously bowed under the weight. Barely able to walk, her owner took her to the vet to be put down. Cue the happy music. Instead of euthanizing the poor girl, the vet contacted Anna and Chris, who made it their mission to give Sam a real dog's life. Here's what Anna wrote after just 6 swims back in 2005...)
I want to describe how happy we are to see Sam change so quickly. From the first day of swimming we noticed a difference in Sam. She was so exhausted after her first session, but the next day she seemed more alert than before.
After the second session, we actually noticed her standing. She normally walks or sits down in between. We are now at 6 swims, and it's just amazing. She has lost a few pounds, but the big thing is her attitude. She is now curious of her environment, and walks at least 20 metres or so.
We've noticed a change in such a short time. We highly recommend Fit Dogs to anyone with a dog. Especially a dog with excess weight or damaged limbs. The staff at Fit Dogs are so caring, welcoming, and genuinely care about the wellness of your dog. We are very grateful for the support we get from Fit Dogs. We know the swimming is going to help Sam get back to a good weight and give her the spark back in her life.
- Anna MacKay and Chris King
(Fit Dogs postscript: it's 2008, and Sam's been swimming 2–3 times a week all this time. She's lost about 50% of her bulk, moves like a dream, and, how to say, kicks ass! Sam rules!)