Who can benefit?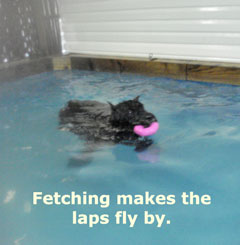 Just about any dog. Swimming's a fantastic workout – strengthening heart and lungs, and building muscle without stressing joints and ligaments. This is a safe, effective complement to exercise on dry land.
It's especially helpful for:
arthritic dogs
overweight dogs
dogs with hip dysplasia
seniors (some of the best swimmers who otherwise struggle on land with aches and pains!)
3-legged dogs
dogs preparing for or recovering from surgery on their cruciates, hips, shoulders or back.
So much better for body and mind than confinement and inactivity!
Just as it is for humans, swimming's a very efficient workout: just 5 minutes' swimming = 20 minutes' walking.
And did we mention fun?